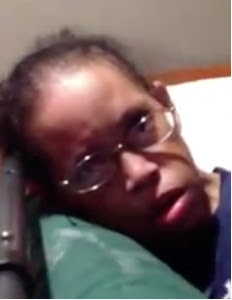 Contact: Alexandra Snyder,
Life Legal Defense Foundation
,
202-717-7371
,
707-224-6675
FAIR OAKS, Va., April 18, 2017 /Christian Newswire/ — Life Legal has been contacted by Yolanda Bell, whose sister Anastasia is being starved to death at a Virginia nursing facility. Anastasia suffered a brain injury in 2005 and is wheelchair bound, but able to speak and interact with her family. Yolanda has been caring for her since her injury.
Several months ago, Anastasia developed a large blood clot while in INOVA Hospital in Fair Oaks, VA. The hospital refused to treat her and ordered that Anastasia be discharged. When Yolanda refused to move her sister out of INOVA, the hospital took her to court and had their own guardians appointed to handle Anastasia's care. The guardians sent Anastasia to a nursing home, where she suffered four injuries in two weeks, including a broken hip.
When Anastasia was transferred back to INOVA on March 21, 2017 because of her broken hip, the guardians refused to authorize any treatment. Instead, they placed her in hospice care at a Golden Living nursing facility. The guardians obtained a court order prohibiting Yolanda from seeing her sister.
Yolanda has just learned that the facility is trying to starve Anastasia to death.
Here are two videos of Anastasia-one taken before she was admitted to the hospital and one taken at the nursing facility last Saturday showing Anastasia's shocking decline:
www.facebook.com/AbductionofAnastasia/videos/443315696006922
www.facebook.com/AbductionofAnastasia/videos/452499695088522
"I miss my sister terribly," said Yolanda Bell. "I can only imagine what she is going through, she must think I have abandoned her. I have trouble sleeping. I close my eyes and see her being beaten and abused. I hear her crying out in pain begging me to help her."
The family is Catholic and Anastasia has communicated that she wants to live. Yolanda has tried to arrange for a priest to visit Anastasia, but the guardians denied the visit.
"Tragically, we are seeing an exponential increase in cases where patients are intentionally starved to death because someone has determined that their lives no longer have value," stated Alexandra Snyder, Executive Director of the Life Legal Defense Foundation. "Anastasia was targeted for death simply because she is disabled. But she can speak, feel pain, and fully understand what is happening to her. She is being tortured to death by health professionals who have it in their capacity to provide care and treatment."
Yolanda can be reached at 703.298.9498 or by email at y.bell@att.net. More about the case can be found here: www.change.org/p/terry-mcauliffe-prevent-hospitals-from-seeking-guardianship-as-means-2-override-patient-rights.
About Life Legal Defense Foundation
Life Legal Defense Foundation was established in 1989, and is a nonprofit organization composed of attorneys and other concerned citizens committed to giving helpless and innocent human beings of any age, and their advocates, a trained and committed voice in the courtrooms of our nation. For more information about the Life Legal Defense Foundation, visit www.lldf.org.